t's common to value your connections. Those connections are especially vital to the relationship between your oral health and your overall health.
It might seem strange to put your general, physical health where-your-mouth-is. But ignoring the evidence could put your wellness at risk.
The evidence…you say??
Data from Delta Dental in a May 2022 report indicate that someone is paying attention to the evidence.
"92 percent of adults and 96% of parents believe their oral health 'to be very, if not extremely, important to overall health." [1]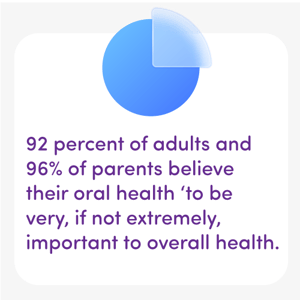 Potential health issues are also being discovered around the general health and dental health connection. There's growing evidence that reveals the following percentages:
38% of strokes

37% of high blood pressure incidents

36% of diabetes cases

[2]
These front-line health issues are believed to have a relationship with your oral health. On a positive note, a high percentage (90%) of the population wants to follow the evidence. [3]
Perhaps you're among them!
How to prioritize
the relationship between your oral health and overall health
Start at home
At-home dental care solutions are abundant. You're likely familiar and (hopefully) committed to the basics:
Brushing your teeth a minimum of two times per day.

Flossing your teeth and rinsing with mouthwash (at least) once daily.
These oral health habits are your first line-of-defense against tooth decay, cavities, and helping eliminate the harmful bacteria that can travel throughout your body - with the potential for causing additional health problems.
Beyond the dental benefits, these habits help you take responsibility for your overall wellness. And they can prompt you to expand your dental care repertoire.
Mouth guards and night guards to protect your teeth.

Teeth whitening to enhance the appearance of your smile.

Dental fluoride for increased cavity prevention and tooth enamel protection.
Stay consistent with dental check-ups
If you trust the earlier mentioned evidence, your commitment to preventive dental care will positively impact your overall health. It's aligned with the "trigger habits" (like brushing and flossing) that lead you to take advantage of other care solutions.
What qualifies as "consistency" for preventive dental check-ups?
Two dental examinations per year by a licensed dentist.

Having your teeth professionally cleaned by a registered dental hygienist.
These preventive dentistry commitments provide diagnostic insight into the health of your teeth and gums. It's also a good opportunity to ask questions or be informed about developments around oral health and overall health conditions.
Stay aware of the connection between your oral health and your general health. As mentioned - the evidence is in your favor.
Be curious about the health issues that could be connected to your dental conditions.

Be open with your dentist about your health history and lifestyle factors.

Be committed to oral health routines at home and with routine dental visits.
Virtual dentistry provides a convenient option for routine dental check-ups. An online dental appointment could be a first step to a health saving diagnosis and treatment.
Schedule your next dental check-up with an online dentist via a dedicated digital platform
The Dental.com team of dental professionals are trained to identify, diagnose, and treat any dental condition. From toothaches to second opinions - you're covered!
Access a 24 hour dentist now from your personal, private, and secure account.

Select a reason for your visit using a brief questionnaire.

Receive virtual dental care from a licensed dentist when you provide your issue details, any photos, and/or dental/health records.
Discover more about Dental.com on our How it Works page. Or Register Now.
[1] https://www.deltadental.com/us/en/about-us/press-center/2022-press-releases/new-delta-dental-report-finds-many-are-unaware-of-connection-between-poor-oral-health-and-serious-medical-conditions.html
[2] https://www.deltadental.com/us/en/about-us/press-center/2022-press-releases/new-delta-dental-report-finds-many-are-unaware-of-connection-between-poor-oral-health-and-serious-medical-conditions.html
[3] https://www.deltadental.com/us/en/about-us/press-center/2022-press-releases/new-delta-dental-report-finds-many-are-unaware-of-connection-between-poor-oral-health-and-serious-medical-conditions.html