Unfamiliar situations can be intimidating. It's no surprise that how to prepare your child for a dental visit could follow that scenario.
Perhaps (as an adult) you've had your moments of anxiety or fear about a dental appointment. Again, it's not surprising that your child would as well.
It's essential to their lifelong oral health that you help your child prepare for dental visits.
A healthy relationship with dentistry begins at home
Children learn by example. Part of your household "curriculum" is their physical and oral health.
Good habits are often "caught" more than they're "taught."
Let them observe you brushing and flossing your teeth. Even more, why not start a daily/nightly routine together.
Make them aware when you have a dental appointment. Welcome their questions about why, when, how long it will take, etc.
Create a positive association with dental care around your "house." Instill a sense of normalcy around dental check-ups and examinations for solving oral health issues.
These mindset shifts will flow into how you prepare your child when it's their turn for a dental visit.
How to prepare your child for a dental visit
Make an early introduction to the dentist
The key is establishing familiarity with dentistry. Introduce them when they're young (e.g. one year old) and their teeth are beginning to emerge.
Help them make the connection between their at-home dental care and the services a dentist provides.
Allow them to see and hear you interacting with a dentist.
Give them opportunity to ask questions about your dental care and/or dental treatment.
Build trust and confidence in dental care
The language you use or expose them to regarding dentistry makes a big impression - positively or negatively!
Words like "drill," "filling," "numbing," "cavity," etc - while part of the process - can overwhelm a child. Use words that have less of an "edge" to them.
"Special dental tools" (instead of drills, probes, etc)
"Checking to see if your teeth and gums are 'happy'" (instead of examining your teeth for cavities, etc)
The more kid-friendly you and your dentist are the better your child will adapt to the dental environment.
Give your dentist "space" to connect with your child
It's natural as a parent to over-explain or do the talking for your child. Part of building a healthy and positive relationship with a dentist is allowing them to connect on a professional and personal level with your child.
Ask the dentist about their training and experience working with young patients.
Let the conversation be guided by the dentist as they talk about their dental tools, what a check-up is like, and how they illustrate dental care using child-appropriate words.
Reinforce the importance of oral health through consistent dental visits
When you include dental care in your routine conversations with your child they will begin to recognize its value. It's important to normalize at-home care and associate it with regular dental visits.
Compliment your child's consistency with a brushing routine.
Acknowledge any hesitancy about dental visits and assure them of your presence and support.
Praise them for having courage during their dental appointment.
Your attitude about dentistry can affect your child's attitude about it. Provide them a positive oral health experience at home and its more likely they will feel positive about their next dental visit.
Virtual dental care is a good option for introducing your child to dentistry. An initial visit with an online dentist can help them get acquainted with dental care and a dentist.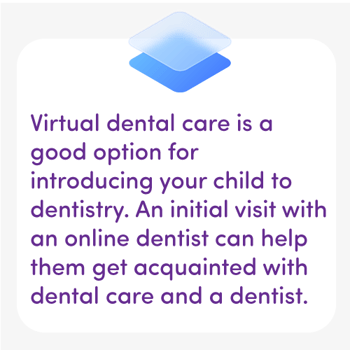 Schedule a "stress-free" consultation with a dentist online
The Dental.com team of dental professionals are trained to identify, diagnose, and treat any dental condition. From toothaches to second opinions - you're covered!
Access a 24 hour dentist now from your personal, private, and secure account.

Select a reason for your visit using a brief questionnaire.

Receive virtual dental care from a licensed dentist when you provide your issue details, any photos, and/or dental/health records.
Discover more about Dental.com on our How it Works page. Or Register Now.