The "(COVID) pandemic-effect" will likely be part of our narrative for awhile. Indeed, the impact is undeniable on the services we value - including dentistry.
Among the impact is considering why you would choose a virtual dental appointment.
The cliche' "home-is-where-the-heart-is" has evolved to "home-is-where…we feel safe and comfortable. Perhaps it's one or combination of the two but the fact remains:
Convenience and accessibility rule!
No longer a trend…
Online innovation is here to stay. And it's positioned for consistent growth.
Consider how virtual services shape how you live and access everything from dining to entertainment to healthcare.
Netflix
Amazon
DoorDash
TeleDoc
These and more have matured from trend to trusted service provider. Their innovative impact has created new waves of accessibility for the services you value - like dentistry.
Online dental visits, for example, are providing 24/7 access to licensed dentists for:
Initial consultations and/or diagnosis
Triage and dental emergencies
Cost savings on treatment
Convenient and safe dental consultations
Follow-up and second opinions
These are perhaps only the beginning. Considering how innovation works you have the potential to experience more benefits in the future.
For now, let's unpack these core reasons why you would choose a virtual dental appointment.
Why choose a virtual dental visit?
1-Access to an initial consultation or diagnosis from a licensed dentist
Having a dentist on-call has typically relied on a face-to-face relationship. And while that in-person touch won't go away anytime soon, not everyone (perhaps you) have access to a dentist or an established relationship with one.
Connection to an online dentist provides easy access.
Your virtual visit is secure and HIPAA compliant.
You can access your online dentist via a personal computer or smart device (e.g. tablet or smartphone).
An online dentist can diagnose your dental emergency and provide triage information.
2-Convenience and cost-savings
Virtual dentistry gives you anytime/anywhere access where you have a secure internet connection. The convenience saves you time and it can also help eliminate the cost of missed work.
And speaking of cost savings - it's common for an online dental visit fee to be less than a comparable in-office visit. Consult with your online dental provider to confirm fees to determine your out-of-pocket costs.
The convenience of a virtual visit applies if you live in a rural area or have limited access in an urban setting. Again, the comfort of not having to commute or experience scheduling conflicts is a plus for the virtual dental care option.
3-Dental emergency care access after-hours
A dental emergency can happen anytime. And there's no guarantee you will be seen immediately in a dental office, an ER, or an urgent care facility.
Virtual dentistry gives you 24/7 emergency dental care access.
Save time not waiting in a local ER or urgent care center.
Receive a diagnosis and treatment options from home or wherever you experience a dental emergency.
Access referral solutions should you need additional care beyond your initial consultation with an online dentist.
4-Follow-up care and second opinions
On occasion you might require follow-up related to your previous dental treatment. Some related consultations can be handled effectively online without having to return to a dental office.
Virtual dental care allows you to receive next-step treatment follow-up or a connection to a specialist.
And there could be a time when you want to seek a secondary diagnosis for your dental condition. An online dentist can provide you a second opinion comparing treatment options and perhaps costs.
Virtual dentistry has moved beyond the trend-phase. Innovative options are available to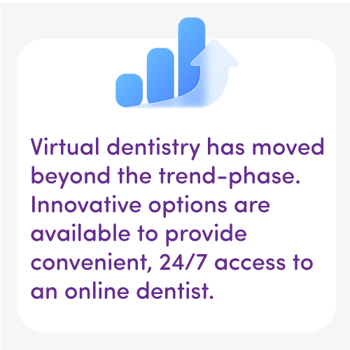 provide convenient, 24/7 access to an online dentist.
Check out the following resource to discover more about online dental visits:
How to Prepare for a Dental Visit and Talk to a Dentist About Your Condition
See a dentist now. Experience the convenience and ease of a virtual dental visit on a dedicated, secure digital platform
The Dental.com team of dental professionals are trained to identify, diagnose, and treat any dental condition. From toothaches to second opinions - you're covered!
Access a 24 hour dentist now from your personal, private, and secure account.

Select a reason for your visit using a brief questionnaire.

Receive virtual dental care from a licensed dentist when you provide your issue details, any photos, and/or dental/health records.
Discover more about Dental.com on our How it Works page. Or Register Now.